TV Map For Bucs-Dixie Chicks Game
January 7th, 2023
It seems our republic is bored by tomorrow's lame-duck game between the Bucs and the Dixie Chicks.
The nation does not appear gripped with the outcome as there is little to no suspense. The Bucs, win or lose, will host either the Cowboys or Eagles next weekend. And the few markets that will see tomorrow's game on their over-the-air FOX affiliate reflect that.
Unless you live in Alabama, Florida, Georgia or Texas, it is highly unlikely you will see the Bucs on free TV.
Not even New England.
Adam Amin and Mark Schlereth will work the game for FOX at 1 p.m..
Of course, Bucs fans can head to Big Storm Brewery in Clearwater or Big Storm's other taprooms in Odessa, Cape Coral and downtown Orlando at the Amway Center. And naturally, visiting your neighborhood Hooters is always a wise move. Bonus: Select Hooters in Florida carry Big Storm beer on tap!
(Streaming information and options will be included in the "Gameday Tampa Bay" post scheduled to publish on this here website at midnight.)
As always, TV coverage maps are courtesy of 506sports.com.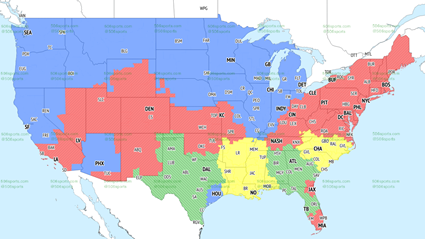 FOX games, 1 p.m. window
Green: Tampa Bay at Atlanta
Blue: Minnesota @ Chicago
Red: NY Jets @ Miami
Yellow: Carolina @ New Orleans