Tom Brady Ups Season Yardage Total To 4,610
January 2nd, 2023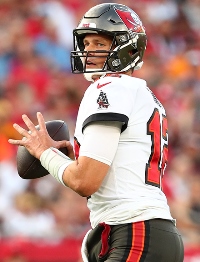 By the time the week's slate of games is finished, Tom Brady has a great chance to rank second in the NFL with 4,610 yards passing this season. Second!
After going wild on the Panthers yesterday, the 14th 400-plus-yard throwing game of his career, Brady leapfrogged Justin Herbert (4,466 yards) and Joe Burrow (4,260) to sit in second place behind Patrick Mahomes. Burrow plays tonight against Buffalo.
Perhaps more important, Brady flashed a crazy-live — on January 1st of his 23rd NFL season.
Joe hates to type it, but Brady likely just put himself on a couple more team's wish lists when it comes to landing him in free agency when March rolls around.
Joe sure hopes the Bucs sit their regulars Sunday at Atlanta. Letting Tristan Wirfs and Donovan Smith heal would be a beautiful thing, but Joe suspects the Bucs will consider playing the starters and Brady for the first half.
Regardless, Brady is primed to hold off Kirk Cousins (4,322 yards) and Jared Goff (4,214) to lead the NFC in passing, even if Brady doesn't play on Sunday.
Man, just imagine if the Bucs had any semblance of a running game.