JV Run Game Holding Bucs Back
January 2nd, 2023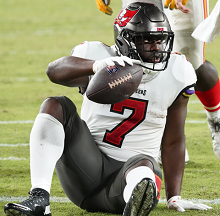 The Bucs squared up Sunday against a below average Panthers run defense and — surprise! — the Bucs made them look like a steel curtain in the trenches.
It's absolutely criminal that Tom Brady has to deal with a worse ground game than the clown show Jameis Winston was given.
The Bucs entered Sunday's thrilling win last in the NFL in yards per carry and proceeded to sink a little deeper into the run-game cellar.
Rachaad White? 11 carries for 22 yards.
Leonard Fournette? 10 carries for 28 yards.
At least each guy was consistent. The longest run of the day was seven yards.
And when the Bucs needed to ice the game with 59 seconds remaining in the fourth quarter? Three runs netted five yards and the Bucs were forced to punt.
Short yardage? The duo of Fournette and White were 1-for-3 on the ground, and on this day the Bucs preferred the air and Tom Brady's legs in those situations.
It's mindblowing how a throw-first team can't take advantage of openings on the ground. The Bucs are not facing a ton of stacked boxes. And White is a rookie with fresh legs and Fournette at 3.5 yards per carry is approaching Payton Barber status.
Joe's not big on a balanced offense, but the playoffs are next and it's damn hard to win there without an efficient ground game. The Bucs had that through their Super Bowl run two years ago, and they were solid in the playoffs against the Eagles last year (31 carries for 106 yards and 2 touchdowns).