Tom Brady Has A Retirement Chat With Steve Young
January 9th, 2023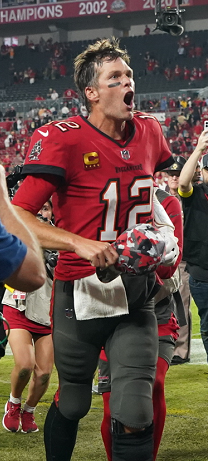 Very interesting listening this evening on SiriusXM Mad Dog Radio.
Tom Brady had two special guests on his Let's Go! show: Hall of Fame quarterbacks Steve Young and Roger Staubach. It turns out Young was Brady's childhood quarterback hero when Brady started playing football seriously in high school.
The chatter soon shifted to Aaron Rodgers openly talking about considering retirement following the Packers' loss to the Lions on Sunday night.
Audio was played of Rodgers' comments and Young praised the candor and tried to explain the agony a legendary quarterback goes through when before, during and after deciding to hang up his cleats.
What made it most interesting from a Bucs perspective was Brady making audible sounds of agreement during the rant, blurting out during it, and then following up to praise Young's assessment.
"What he's contemplating is, in my mind, a death. And who chooses death?" Young said, referring to a football retirement.

"Because when you're the best at something in the world and then you leave the game and the next day you're not that anymore and you find out, you know what, I'm not actually even good at anything else.

"So you end up wanting so much to go back to the thing I was great at. Not because you want the adulation and people to tell you that you're great, like there's something that you're great at. And as a human being you don't want to (Brady interjects "suck"), that's my highest and best use.

"What [Rodgers] is contemplating is a really difficult thing, and people have no idea — having been there and felt that and have to deal with it. I always tell people, 'The next day you're at the bottom of a cliff in a broken sack of bones. And then you gotta stand up and start doing something different. But it's never going to be the same. It'll never be as all-encompassing, every bit of yourself poured out every week. There's nothing like it. And that's why Aaron is sitting in that spot, looking over the cliff going, 'I don't want to fall down there. I don't want to go there. I don't." And that's really [how I] viscerally feel him today."
Brady's feedback was brief after Young's take, though he seemed to confirmed he decided to retire one day after the Bucs' 2021 season concluded — even though the announcement didn't come for days.
"Steve brings out the perfect point," Brady said. "Those are absolutely legitimate feelings and emotions. And I think the most important thing is the day after the season, and I made this mistake, is not to decide the future."
During Young's talk about Rodgers, it felt like he was sending a strong message to Brady. Don't hang it up now because you'll regret it for the rest of your life.
Hopefully, Brady decides to listen — and renew his lease on Davis Islands.
---
Ira Kaufman Deals A Season Grade To Todd Bowles, Talks Tom Brady Dominos, Falcons Game Meaning, Bill O'Brien & Much More