The Bucs' 2023 Opponents And Locations
January 9th, 2023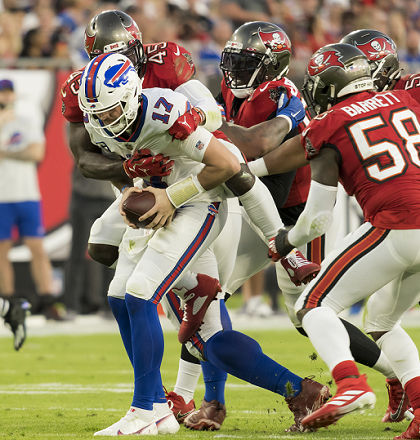 Fun factoid about the Bucs' 2023 regular season schedule. When the team heads to Buffalo, players can look up in the stadium and see O.J. Simpson's name in the Bills' Wall of Fame.
In Tampa, well, Jon Gruden was canceled and his name was removed from the Buccaneers Ring of Honor. Yeah, the NFL is a strange planet.
Courtesy of the NFL's annual rotation, the Bucs will have one extra road game next season, and that game will be in Buffalo. Other AFC games will be against the AFC South.
Tampa Bay's first-place schedule gives them games against the Eagles at home and away at San Francisco.
The remainder is they typical home-and-away versus NFC South teams, plus all NFC North foes.
Tampa Bay Buccaneers
Home: Falcons, Panthers, Saints, Bears, Lions, Jaguars, Eagles and Tennessee Titans
Away: Falcons, Panthers, Saints, Bills, Packers, Texans, Colts, Vikings and San Francisco 49ers