Tim Brown: Raiders Should Have No Interest In Tom Brady
January 27th, 2023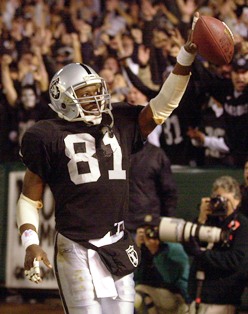 Joe sure hopes Hall of Fame wide receiver Tim Brown still has influence at Raiders team headquarters.
Why? Because Brown was a voice of reason during his recent visit to CBS Sports Radio.
"I don't think Tom Brady should be in the [Raiders'] plans at all," Brown said while Joe applauded.
Brown was asked about the Raiders' uncertain quarterback situation; they gave up on Derek Carr and have little else. Brown has heard the chatter about pending free agent Brady heading to Las Vegas to connect with his former coach and current Raiders head coach Josh McDaniels, and wants to see the Raiders take a different approach.
"I think Tom is starting to show that he's 45, 46 years old," Brown said. "I think his inability to move, I mean when you look at the quarterbacks in the league today you have very, very few who are pocket quarterbacks. You know, Joe Burrow is probably the closest thing you get. But God knows, when it's time to run, he can get out of the pocket and make it happen. Tom Brady is never going to do that.

"… I just think the league is going to the point where you have to have a quarterback that's able to move around and get some things done with his feet every once in a while."
Joe thinks Brady can still get the job done, but yeah, he's immobile and needs an Grade A offensive line to be elite. The Bucs had that in 2020 and 2021. This season, the line was more like a Grade B-.
The Raiders' offensive line isn't so great, either. Regardless, Joe loves any chatter that suggests Brady's options might be limited across the NFL, which would make him more likely to land in Tampa next season.
Brown suggested Brady may keep playing because of his divorce — and because NFL brethren will love him and stay devoted.
"Maybe this is his family now. Maybe he tries to hold on," Brown said.
Brown also advised Brady to get people in his corner who are strong enough to tell him to hang it up if they believe he can no longer play effectively. "Just because you can, don't mean you should," Brown quipped.