"They're Scared To Say Anything Negative About Tom Brady"
January 4th, 2023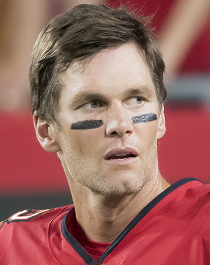 The famous Tom Brady Effect seems to have a new nuance.
Now there's Brady Fear in the mix.
Joe sees it in the media and, heck, Joe may be guilty of it occasionally. Maybe. Tom Brady gets a massive benefit of the doubt when he plays poorly, and some even deny the poor play. Blame is more likely to be thrown everywhere other than at Brady's feet.
Bucco Bruce Arians, however, threw Brady under the bus in mid-November as part of a JoeBucsFan.com exclusive. And there have been others.
Joe sees the Brady's dropoff in the red zone all season and considers that undeniable proof of Brady not being the same player. But he's still damn good.
Former Bucs great Keyshawn Johnson was shaking his head this week at those who think Brady is still the magical Goat he always was. Speaking on his ESPN Radio show, Johnson was adamant that Aaron Rodgers is still Aaron Rodgers, but Brady is a guy who took a significant step down from his throne.
"Anybody that looks at Tom Brady and says, 'Oh, That's still Brady.' They're just talking now. They're scared to say anything negative about Tom Brady. That's just the reality of it," Johnson said.
Joe agrees with Johnson, but not to the point where Brady is out of the top tier of NFL quarterbacks. He's still great, just not at the MVP level he was in 2021, when he deserved the award that Rodgers won.
That's why Joe thinks any Bucs fan wanting to move on from Brady has lost his or her mind.