Report: Dolphins Out On Tom Brady Chase
January 29th, 2023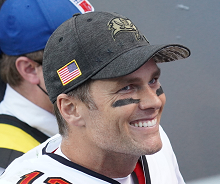 The Bromosa is flowing early at JoeBucsFan.com world headquarters.
Joe is celebrating one less playing option for Tom Brady next season. BSPN super insider Adam Schefter reports this morning that the Miami Dolphins, the team that already lost a first-round pick in its pursuit of Brady, albeit against NFL rules, will not be chasing him in free agency in March.
Yes, even with their current starter Tua Tagovailoa having serious concussion issues (he isn't cleared to play flag football at the Pro Bowl), the Fins are out on Brady. Schefter says the Dolphins are committed to Tagovailoa.
And Joe suspects the 49ers will have no Brady fantasies if they beat the Eagles today.
Joe wonders if Dolphins management evaluated the 2022 Brady film and collectively said, "No thanks." Or is their decision primarily tied to other factors?