Rematch Puts Preseason In Spotlight
January 13th, 2023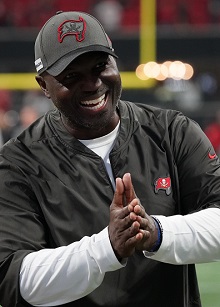 Every summer brings an annual argument.
Should teams play starters in preseason games or hold them out and not risk injury?
There's a great divide across the NFL. The coaches who turn their noses up at preseason believe quality practices and controlled scrimmages are safer and overall better work (Sean McVay leads that pack). The other coaches believe there's nothing better for game prep than actual games (see John Harbaugh).
This week, Joe has heard Cowboys fans and pundits bark about how when the Bucs beat Dallas 19-3 to open the season, Dallas was super rusty because their head coach sat so many starters through the preseason. Then quarterback Dak Prescott broke his thumb with a pass follow-through that hit Bucs sacks king Shaq Barrett, and the Bucs put the "W" in the bank.
The Cowboys fans appear to be using the preseason strategy as a way to write off completely the Bucs owning the Cowboys on opening day.
Joe can't say that's valid, but it is interesting to consider. Bucs head coach Todd Bowles believes in preseason, as did Bucco Bruce Arians.
Joe is more intrigued by how the Bucs locked down Pro Bowl running back Tony Pollard in the season-opener (6 carries for 8 yards). Will they be up to that task again? His 2022 season yardage represents more than 20 percent of the Dallas offense.
The Cowboys' running game has been ugly through the past month. So Joe thinks the Bucs will be in good shape.