Primed For Victory
January 13th, 2023
BY IRA KAUFMAN
The Bucs released their initial injury report of the week and guess who wasn't on it?
The franchise.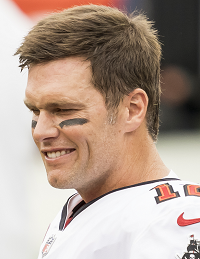 If you're wondering why so many pundits are picking the Bucs to pull off a mild upset Monday night, look no further than the mismatch under center. Tom Brady has won 35 postseason games. Dak Prescott has won one.
Uno.
Eighteen weeks into an erratic season, Brady is healthy — and so are Tampa Bay's chances of advancing to the divisional round. While chaos swirls around America's Team, Tampa's team is getting more healthy and more confident.
Brady's impeccable résumé in big games provides the Bucs with considerable swagger against a Dallas team that posted four more wins during the regular season.
Despite the disparity in the records, the time feels right to bring on the Cowboys. Their owner can't shut up and this matchup is beginning to look like a silent night for the visitors.
Each day, a new rumor circulates about Mike McCarthy's future in Big D. Defensive coordinator Dan Quinn is linked to a different head coaching vacancy every few hours. Micah Parsons is pissed off he didn't make someone's All-Pro team.
Soaking it all in is No. 12, winner of 74 percent of his postseason starts. You can't overstate Brady's incomparable success on the biggest stages. He ranks No. 1 all-time with 35 playoff wins. Joe Montana is second … with 16.
Brady is the last quarterback Quinn wants to see in January.
Quinn orchestrated the Legion of Boom defense for the 2014 Seahawks, who were seeking back-to-back championships. A repeat appeared likely as Seattle led the Patriots 24-14 in the fourth quarter of the Super Bowl before Brady shredded the NFL's No. 1 defense en route to a 28-24 triumph.
That was a mere appetizer for Brady, who led New England back from a 28-3 deficit against Atlanta in the Super Bowl two years later as Quinn looked on helplessly as Falcons head coach.
In those two memorable Super Bowl comebacks, Brady completed 36-of-44 passes for 376 yards and 3 touchdowns — all after the third quarter. No wonder Quinn has been warning Parsons and the rest of the Cowboy defense that no lead is safe against Brady.
"This is a quarterback who is so mentally quick and has seen so many things, we'll have to be at our best," Quinn says. "I don't know if anyone has ever done it better in terms of identifying where to go with the ball against the coverage."
The Cowboys have a strong pass rush, ranking second in the NFC with 54 sacks, but Quinn is a realist. Brady's ultra-quick release makes it very difficult to get him on the ground.
"There are ways to affect the quarterback and get him to move off his spot," he says.
Coming off his first losing regular season, Brady has the look of a winner in this wild-card duel. But if things go awry, this could well turn out to be Brady's final game as a Buccaneer, so appreciate him while you can.
We shall not see his like again. Nobody will.
---
So, so many great offers now at Bill Currie Ford, home of the nationwide lifetime warranty on new and used vehicles. Start shopping!