Leftwich Firing Will Repel Tom Brady?
January 24th, 2023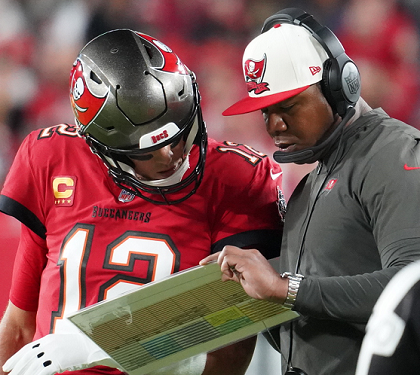 On the surface, it appeared that failed and fired Byron Leftwich had a fantastic relationship with Tom Brady.
Each guy talked about how he saw the game through the same lens as the other guy, and there were never any sideline blowups. Of course, for two seasons they had a truly elite NFL offense together.
And then came 2022. The offense was weak and never sustained significant improvement, falling from 30 points per game last season to 18 with a league-worst running game and a derailed deep passing game.
Still, through all the production issues, Brady and Leftwich appeared tight. Brady even said last month "I talk to Byron 100 times a day."
And it's that relationship that has a former Buccaneer and a friend of Leftwich thinking Leftwich and other Bucs offensive assistant coaches getting fired is a sign Brady isn't coming back to Tampa.
Joe is referring to Michael Clayton, the retired Bucs and Giants blocking icon/receiver. He shared his Brady-Leftwich theories with WDAE Radio recently.
"I'm guesstimating [Brady] is more so leaning on the side of not being here, which made this coaching change and eliminating a lot of the offensive coaches easier to do," Clayton said, adding that other teams with established systems and coaches in place likely would be more attractive to Brady.
Clayton also said Brady is likely to quit football because he won't get a fat contract after a rough season that ended with a bad performance by him in the playoffs.
"That takes the money down," Clayton said. "… He looks to be washed up at times."
The Leftwich firing does conjure many thoughts. Did Brady ask for him to be fired? And/or did Brady approve the firing? The Bucs would have been insane not to consult with Brady on that decision.