"Catchin' And Throwin'"
January 13th, 2023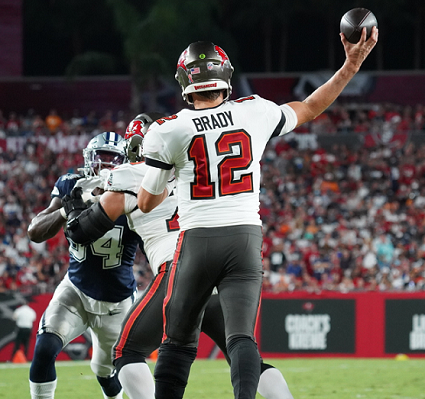 The famous father-son Simms quarterback duo was split when it came to predicting the Bucs-Panthers game, when Tampa Bay opened up its offense and came back to wipe out the miserable Panthers.
The elder Phil Simms, the Super Bowl-winning QB, thought the Bucs would beat Carolina if they let Tom Brady throw deep and run more hurry-up. Son Chris Simms thought the Bucs would be fried by the Panthers because the Bucs offense stinks and the team was overrated with "Shamrocks up their ass," a reference to the (alleged) luck of the Brady comebacks.
Thankfully, pops was correct.
Phil Simms was back on SiriusXM Mad Dog Radio tonight talking the Bucs-Cowboys wild card game on Monday night.
He sees Tom Brady "catchin' and throwin'" all night long to diffuse the Cowboys' pass rush. And he thinks Dallas needs to give beastly pass rusher Micah Parsons more snaps off then usual to maintain his effectiveness.
Again, Phil Simms says the Bucs' best shot is throwing deep to Mike Evans. He likes the matchup of Evans deep against the Cowboys' defensive backs and Chris Godwin down the seam.
Simms said he picked the Bucs earlier in the week but more film study this week had him going the other way late this afternoon, looking at a low-scoring game with Dallas perhaps winning 17-14.
Interestingly, each member of the Simms duo said this week that if the Bucs can't run at all on Monday, then they will be toast with all the resulting heat on Brady.