Brady-To-49ers Chatter Picks Up
January 30th, 2023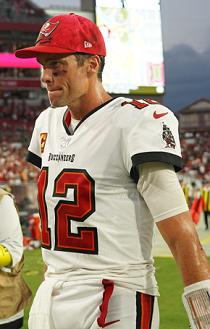 All it took was an elbow injury to the 49ers' rookie sensation quarterback on Sunday to, apparently, get NFL executives talking.
Longtime NFL writer Mike Sando, now working for TheAthletic.com behind a paywall, annually polls general managers and compiles and shares their thoughts on many subjects.
It's not Sando's time of year for that, but he was taking the pulse of the NFL community a bit when it comes to Tom Brady for his new column. He found a suit saying Brady to the 49ers (at a hometown discount) is popular talk around the league.
"I think they will trade Trey Lance to Tennessee and then they will end up with Brady and Brady will play one year for his home team, and they will have Brock Purdy as the backup," an exec from another team predicted Sunday. "That is the chatter. They have the defense already, Brady wants to win one more, and this is right up the 49ers' alley."
It was inevitable, the dot-connecting of Brady growing up in the San Francisco area and Purdy's fresh injury, plus the 49ers getting hammered by the Eagles yesterday.
Joe can't speak to the desperation of the 49ers with their high draft pick, Lance, coming off a major injury, and the upstart seventh-round pick Purdy who stunned the NFL with his readiness and poise.
Joe couldn't blame Brady for jumping on the opportunity if it were available, but Joe is skeptical Brady would want to go to team where fans might be screaming for the backup QB at the first sign of Brady looking 46 years old.