TV Map For Bengals-Bucs Game
December 17th, 2022
America wants to watch quality quarterbacks so CBS will try to quench the nation's thirst. At least most of America.
Unless you live in the Tennessee Valley, Oregon or SoCal, it's very Bucs fans will have the opportunity to watch Sunday's Bengals-Bucs game and the sexy matchup of Joe Burrow and Tom Brady via their local over-the-air CBS affiliate.
And since most of America will get this game, CBS is giving the game its top talent. Jim Nantz and the pride of Eastern Illinois University, Tony Romo..
Of course, Bucs fans can head to Big Storm Brewery in Clearwater or Big Storm's other taprooms in Odessa, Cape Coral and downtown Orlando at the Amway Center. And naturally, visiting your neighborhood Hooters is always a wise move. Bonus: Select Hooters in Florida carry Big Storm beer on tap!
(Streaming information and options will be included in the "Gameday Tampa Bay" post scheduled to publish on this here website at midnight.)
As always, TV coverage maps are courtesy of 506sports.com.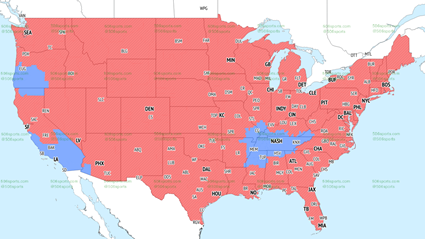 CBS Late-Window games
Red: Cincinnati @ Tampa Bay
Blue: Tennessee @ LA Chargers