Tom Brady, Todd Bowles Talk Up-Tempo Offense
December 27th, 2022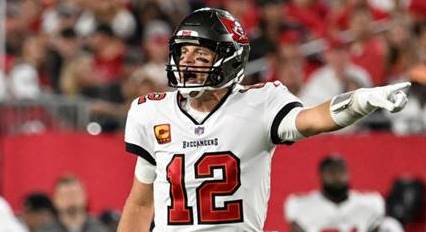 The kind of offense that is making Tom Brady, Todd Bowles and legions of Bucs fans smile doesn't happen very often, certainly not often enough.
Any regular Bucs observer can see that when the Bucs play hurry-up, good things happen. It's not even an arguable point. But they primarily only use it when they're desperate.
Last night on SiriusXM Mad Dog Radio, The Goat himself acknowledged the Bucs are looking strong when playing "tempo" with their offense.
"That's probably when we're at our most efficient, is our ability to play fast and make plays and move the sticks," Brady said. 
Earlier in the day on SiriusXM NFL Radio, Bowles didn't shy away from that reality. Co-host Pat Kirwan, the former Jets linebackers coach and personnel chief, told Bowles how much he likes the Bucs in no-huddle and how he feels it suits them.
"I do, too. It seems like it's the only thing that's workin' right now," Bowles said.

"I know we can't make a living at it. But, you know, we'll try and do some things that incorporate certain things like that. And we'll keep working on it and try to make it a full, complete offense."
Re-read that last sentence. Is Bowles saying the Bucs are trying to turn hurry-up and/or hurry-up concepts into a "full, complete offense?" That's unclear.
Those who watched the Bills of the early 1990s and other teams know tempo can be jacked up far more often than the Bucs do it now.
Joe sure hopes the Bucs clinch the division Sunday and have a meaningless game in Week 18. That would give them a lot more time to work on significant tweaks to the offense, like more hurry-up.