Tom Brady Talks Ryan Jensen Return
December 27th, 2022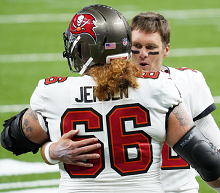 Hope continues to linger at One Buc Palace that Pro Bowl center Ryan Jensen will play this season — in the playoffs.
Tom Brady himself even jumped in that pool yesterday.
Brady was asked about Jensen on his Let's Go! show on SiriusXM Mad Dog Radio.
Brady was asked point blank, "Is Jensen gonna come back if you make the playoffs?"
"I think that's still to be determined," Brady replied. "I know he's been very vigilant with his rehab. I don't know. I don't think anyone knows right now. I know he's a lot closer than (pause). I know he's itching to get out there. I see him every day. I try to encourage him every day. That would be a big boost if that did happen."
If the Bucs win Sunday, they could have a home playoff game in as soon as 18 days from today. Meanwhile, Jensen hasn't practiced since late-July, when he blew out his knee in a training camp practice.
Brady says Jensen would be a "big boost." Joe thinks that might be a stretch if Jensen take the field with that much rust on him.