Postseason-Only Hope For Ryan Jensen Return
December 22nd, 2022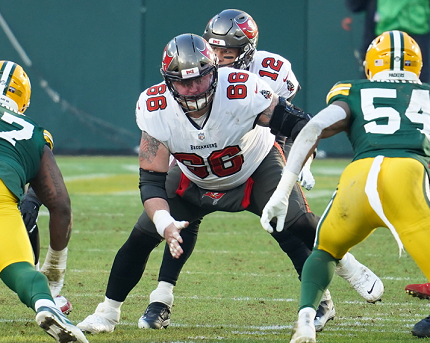 With three games remaining, it's a very safe bet that Pro Bowl center Ryan Jensen's only shot at returning to the field this season is in a Buccaneers playoff game.
Even if Jensen is cleared to practice/play sooner on his healing knee, would the Bucs be crazy enough to put him on the artificial turn in Atlanta's dome during the season finale?
Regardless, Jensen's position coach Harold Goodwin (he coaches the interior offensive linemen and coordinates the run game), painted a picture this week of Jensen only coming back for the postseason.
"Hopefully at some point we, maybe if the season goes the way we want it, we get him back. Maybe not," Goodwin told the Buccaneers Radio Network.
To quote Goodwin, "if the season goes the way we want it," — that can only mean reaching the playoffs. Joe can only guess which round.
Goodwin lamented what huge loss it was when Jensen went down in July during a training camp practice. He said the curse words were flowing and a little time was needed to dig out of the depression.
"But it was a huge letdown for me just because I know how much he put into it, how much he wanted to come back here and compete for another Super Bowl."
Joe has seen Jensen at One Buc Palace and at games, and in street clothes snapping the ball to Tom Brady.
Joe puts nothing past Jensen, who is a true tough guy. He's the kind of dude who would take an injection and get on the field if doctors gave him a green light. David Bakhtiari, the Packers star left tackle, made a somewhat surprising and successful return early this season from a major knee injury, so that gave Joe a little extra hope. He and Jensen are both 31 years old.