Tom Brady Sets NFL Fourth-Quarter Comeback Record
December 5th, 2022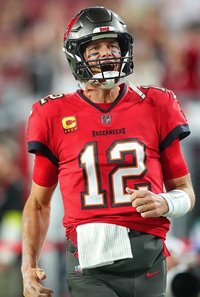 Peyton Manning is famous for a lot of reasons, but one is because he was slightly ashamed of his career fourth-quarterback comeback record that he held until Tom Brady's magic tonight.
Manning used to say that all those fourth-quarter comebacks, 43 to be exact, was a reminder of how badly in he played in the first three quarters of those games.
Tonight, Manning lost his record to Tom Brady, who rallied the Bucs to two touchdowns on their final two drives for a thrilling 17-16 Bucs win against the Slimy Saints. Brady now holds the NFL record with 44 wins after trailing in the fourth quarter of those games.
No, you won't catch Brady feeling like his record doesn't mean much. He was fired up after tonight's win and praised the Bucs defense for giving him a chance, and he showed Todd Bowles love for punting on 4th-and-long early in the fourth quarter when Brady wanted to go for it.
Brady made a little more Bucs history tonight, too. He snapped the Bucs' 69-game losing streak when trailing by eight or more points in the fourth quarter.
Tonight's miraculous finish sure puts an extra spotlight on Bowles not trusting Brady to lead a Bucs comeback in the fourth quarter last week against the Browns.
Lesson learned. Hopefully.