Tom Brady Says He Doesn't Contemplate Retirement
December 26th, 2022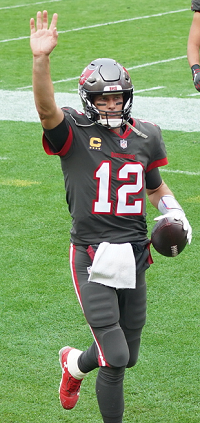 So will Tom Brady play for the Bucs next season?
Perhaps a better question is whether he'll play at all.
That was a topic tonight for Brady himself on the Let's Go! show on SiriusXM Mad Dog Radio.
Co-host Jim Gray playfully asked Brady if Gronk unretires next season whether that would set the stage for Brady to unretire again.
Brady laughed and said, "Well, I think next time I decide to retire, that's it for me. So whenever that day comes, we'll figure it out."
Then things got more serious. Do you even contemplate [retirement] at this point? Jim Gray asked as a follow up.
"I really don't," Brady replied.
"You know, I think what I really realized last year was you gotta be really sure to do that. And for me, you know, a lot of people have kind of gone through this situation. I'm going to take my time whenever that time does come."
It sure smells today like Brady wants to play next season. Nothing really feels like he's quitting now that he's divorced and his camp seems to be spreading the word that Brady plans to keep being a quarterback.
Will Brady return to Tampa Bay? Joe thinks a lot of that comes down to how this season finishes, factoring in that Team Glazer surely would pay Brady whatever he wants and would accommodate most if not all of his coaching demands.