Tom Brady Needs Three Touchdowns
December 16th, 2022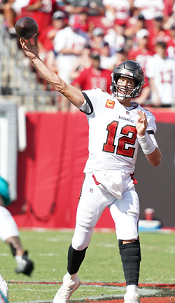 Sunday's game against the streaking, sound and savvy Cincinnati Bengals has Joe taking great pause.
Essentially, a completely different Buccaneers team has to show up for Tampa Bay to grab a critical "W."
It's a tremendous ask and probably an unrealistic expectation. The Bucs probably needs last year's team to walk into the building.
Joe would settle for the club that appeared not even one month ago against the Seahawks.
Still, no matter how Joe carves up the options — and the Bucs appear limited by significant injuries on defense — Joe sees Tom Brady needed three touchdown throws that have nothing to do with garbage time of a loss. That's literally something Brady hasn't done all season, as hard as that is to believe.
In contrast, Bengals QB Joe Burrow has four games this season, all victories, with 3 or more touchdown throws.
It's a team game and the Bucs need their defense to get back to allowing less than 20 points per game, as they were routinely before last Sunday's beat down. But the Bucs most need Brady to snap back to elite form if they want to have a prayer on Sunday — and in the playoffs.
Frankly, Joe would be darn happy and encouraged all next if week if Brady broke out on Sunday, even if the Bucs lost.