Tom Brady And Three-Score Losses
December 15th, 2022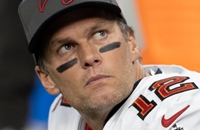 One might think that since Tom Brady has been such a legendary winner through his time with the Patriots and Bucs, he hasn't dealt with many three-score losses like the Bucs suffered on Sunday.
Well, reality says otherwise. Joe was combing through Brady's history this morning and in the majority of seasons with the Belicheats, Brady endured a three-score loss. In fact, he even had multiple in the same season.
So Brady always bounces back after a three-score defeat? Nope. Twice he's lost after getting blown out.
Back-to-back blowouts, however, are not something you'll find. And Joe sure hopes the Bucs don't go there Sunday against the mighty Bengals.
This isn't the 2020 Bucs, the team that bounced back from getting rolled 38-3 by the Saints with a 46-23 pounding of the Panthers in November of that year.
Joe believes Brady still has something left in his tank — physically, mentally and from a leadership perspective — to at least restore a form order to the Bucs this Sunday against a beastly Bengals team. That doesn't mean the Bucs will win. But if the Bucs are non-competitive, then it's time to sharpen the microscope on Brady and to ramp up the search for a new head coach.