Todd Bowles: Tom Brady Struggles Have Nothing To Do With Age
December 14th, 2022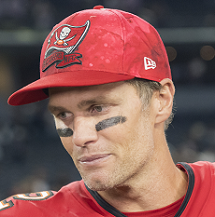 It's obvious that Tom Brady and the guys around him aren't playing to their potential.
But with Brady, the obvious isn't always so obvious.
At 45 years old, the question is always hanging out there regarding whether any Brady bad game is tied to being born in 1977.  Nothing is a given on a football field at that age.
Today, Bucs head coach Todd Bowles was asked by Rock Riley whether he's seen any age-related dropoff in Brady and Bowles was fast and sure with his answer.
"No, he's exactly this same," Bowles said. "It takes 11 guys on offense, 11 guys on defense to win a ballgame. When things go wrong, it's not because of Tom's age, it's because we didn't execute it."
Joe was pleased to see Bowles be so genuine with his body language during the response.
If Brady were to decline clearly because of age, then the Brady dream for the Bucs and fans needs to die in a hurry.