Todd Bowles Talks "Bloodbath"
December 2nd, 2022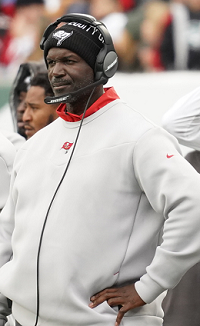 Bucs fans can sort of throw out all the analysis of the critical upcoming Monday night game against the slimy Saints at The Licht House.
Joe will put it simply. If the Bucs want the "W" more, if they're willing to fight for every blade of grass in every moment, then the talent edge Tampa Bay has on the Saints should be enough for victory.
But it will be a dogfight because the rosters don't like each other. It's a nasty rivalry, one that featured a mini-brawl in Week 2 as the Bucs snapped the Saints' regular-season stranglehold.
Joe heard references to the nasty rivalry from Bucs coaches this week and that was extra clear when head coach Todd Bowles told the Buccaneers Radio Network that he expects "a bloodbath" on Monday.
Joe wonders if the Bucs are up for a bloodbath? Their performance in Cleveland didn't give Joe confidence. So Joe hopes Bucs coaches are up for a bloodbath.
One could say playing scared is a poor plan for a bloodbath, and keeping noted bullies Akiem Hicks and Vita Vea on the bench in key moments is also bad form for a brutally physical matchup.
The Bucs are favored to win Monday and should be against a dreadful Saints team. But the Bucs still have to play a brand of ball they haven't showed consistently if they're going to come out on top.