"Engine Of The Defense"
December 2nd, 2022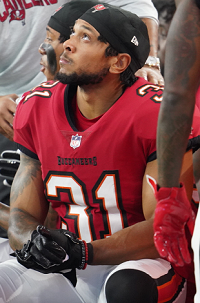 It seems the Bucs lost more than just their versatile Pro Bowl nickel cornerback/safety in overtime on Sunday.
Antoine Winfield Jr. has a high ankle sprain and it's unclear how long he'll be out. (No, Joe won't get started on why there was even an overtime against the bumbling Browns.)
Listening to cornerbacks coach Kevin Ross on the Buccaneers Radio Network, the loss of Winfield is devastating. He's more than just a position player, per Ross, who was a two-time Pro Bowl cornerback himself.
"He kind of like is the engine of the defense," Ross said of Winfield. "As he goes, we go. You know what I'm saying? If he's upbeat, that team is upbeat and we need him on the field at all times."
Ross noted that various injuries this season have made it hard for Winfield to get in football shape and top form.
"He's got great hands, he's got great instincts and things like that right there, but instincts and hands and everything without health just don't work on the football field," Ross said.
Joe sees healthy Winfield as an impact player. So that's why it troubled Joe so much to hear the Bucs were being cautious with him even after he cleared concussion protocol.
High ankle sprains are brutal and Joe isn't expecting to see the Winfield the Pro Bowl performer for quite a while. Hopefully, he can make it back to top form for the playoffs.
Yes, playoffs. If you think Joe believes Marcus Mariota, Andy Dalton or Quarterback Du Jour in Carolina will win the division, then you are mistaken.