Todd Bowles: Bucs Still Figuring Out Identity
December 11th, 2022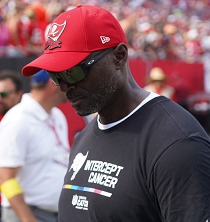 So despite having the greatest football leader in history, a man Bucs ownership and its GM say is a generational and organizational tone-setter and culture-shaper, the Buccaneers' football team doesn't know what kind of team it is or wants to be in mid-December.
In March, Todd Bowles was handed a sweet ride with eight cylinders and plenty of horsepower, along with a crew of seasoned mechanics in the shop. And what are the Bucs' now?
Bowles isn't sure.
Bowles said after the humiliating loss at San Francisco this evening that his message to the team was, "Decide who we want to be. We can't be an up and down team. "We got four weeks left to find out what we want to be during the season (inaudible) accomplish our goal."
Joe thinks the Bucs already have decided who they want to be.
Sadly, that's a team that wiped out a hell of a lot of good that Tom Brady did for this organization, and a team that collectively is willing to play — and coach — without fire and ultimate sacrifice.
Joe wonders if Bucs honchos still consider themselves all-in on the 2022 season?