Todd Bowles Blasts Buccaneers Run Defense
December 13th, 2022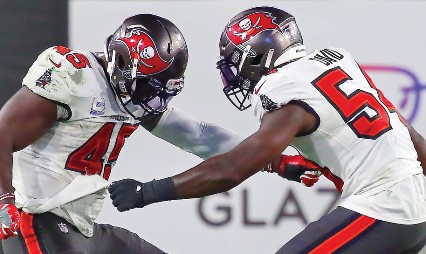 The Tampa Bay run defense has gone from historically elite under Todd Bowles in 2019 and 2020, to darn good last season and below average this season.
The data bears it out, and so does the eye test.
It's a sad and somewhat ignored problem with the 6-7 Bucs.
The poor run defense was on display Sunday at San Francisco. The final line was 36 carries for 209 yards and 3 touchdowns for San Francisco.  Ouch.
And don't blame it on manbeast defensive tackle Vita Vea leaving after the first series with a calf injury, Todd Bowles said this evening on the Buccaneers Radio Network.
"We don't lose much when Nacho comes in the game," Bowles said, referring to Rakeem Nuñez-Roches.
Bowles ripped the overall run defense and wasn't happen with some play(ers) off the edge.
"We were not in our gaps half the time," said a frustrated Bowles. "And we had unblocked guys."
The head coach went on to blats he team missing run fits and said "that was not a good game" for run fits.
Bowles said Carl Nassib was good against the run and Anthony Nelson was "decent." He didn't seem to like the play from other edge players, but didn't mention them by name (Joe Tryon-Shoyinka and Genard Avery).
To repeat what Bowles said, and Joe did a double-take, "we were not in our gaps half the time."
That's about as bad as it gets, and Joe's not sure why that happens to a veteran team in mid-December with the No. 3 seed in the NFC playoffs on the line.