Three "I Love You" Hugs For Byron Leftwich
December 22nd, 2022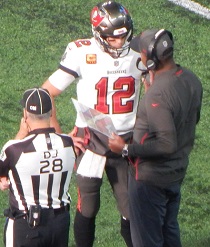 The Tom Brady-Byron Leftwich bromance was on display for the world to see this week.
The Bucs released another episode of In the Current, their Hard Knocks-ish, G-rated video series that chronicles select team happenings through highlights, exclusive player interviews and sideline and locker room footage seen nowhere else. (It can be found on YouTube and Buccaneers.com).
Of course, Joe watched the episode because Joe is a Bucs fan.
Late in the episode, the Bucs' in-house cameras caught mic'd up Brady having a tender moment with Leftwich following the comeback win against the Saints. The two are embracing and three times Brady says "I love you" during the extended hug.
Man, Brady sure doesn't look like a guy having personal issues with his playcaller. Of course, business is business, and Brady may prefer to be just friends with Leftwich rather than colleagues.
But if Leftwich continues to say 'Screw it,' (if he said it at all), then who knows what's next for these two lovebirds.