"They Gotta Help Him Now"
December 19th, 2022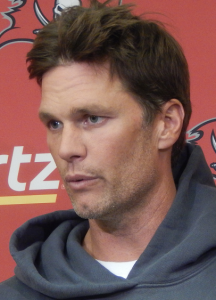 The Tom Brady dropoff can't be denied.
That doesn't make him a worthless quarterback, but it does give Bucs fans and seasoned NFL observers a sick feeling.
The best thing to happen to the NFL media world this season may be the return of Herm Edwards. Booted from his college head coaching gig at Arizona State in midseason, Edwards jumped right back into part-time NFL work with BSPN.
At 68 years old, Edwards hasn't lost any juice. His passion, energy and NFL knowledge are off the charts as a former player, assistant coach and head coach of the Jets and Chiefs.
On BSPN radio this morning, Edwards was hit with the Tom Brady questions: Is he done? Should he be done?
The pain in Edwards' voice ran deep. He said he knows what Brady means to the game and how he's NFL royalty, but Edwards drew on his experience for his answer.
"When guys start considering retiring, they've actually retired," Edwards said of Brady.
He went to explain that the Bucs' organizational elevation from The Brady Effect has evaporated, or it needs to in hurry. Why? Because Brady is a different player and presence, Edwards said.
"That Tampa Bay Buccaneer team needs to help Tom Brady. He's already helped them. They gotta help him now," Edwards said. "You can't drop balls. You can't do things in games. You can't always put Tom Brady behind and say, 'Guess what, he'll bring us back to win.' That ain't happening, man. It's just not. We've seen it, and we're watching it unfold in front of our eyes and we don't want to look at it."
Edwards is correct. However, the Bucs gave Brady a 17-point lead yesterday and Brady proceeded to turn the ball over on four consecutive possessions following Todd Bowles' unfathomable fake punt at the Bucs' 26 yard line.
Painful times for Bucs fans, and Brady fans.
Thankfully, the Bucs remain very likely to make the playoffs, which should least keep Brady, the coaching staff and the roster under a legitimate microscope.
There's nothing better for evaluation than to see players performing under pressure. In a normal season, the Bucs would be out of the playoff chase by now and the games going forward would be nearly meaningless.