Report: Tom Brady's Desire To Keep Playing Is Stronger Now Than A Year Ago
December 19th, 2022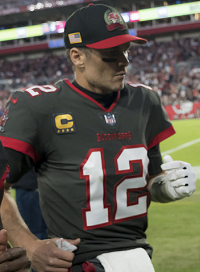 Anyone catch the Jeff Darlington video feature on ESPN TV?
Joe did.
Darlington, who is known for being a reporter with a direct channel to Tom Brady's inner circle, has been a fixture at Bucs games lately.
Darlington's true Brady insider status seemed to fade early this year, however, and in May he claimed to be staying out of the Brady game after reporting Brady's retirement only to see him return to the Bucs 40 days later.
Well, Darlington got back in the Brady game over the weekend. He led a 3 1/2 minute feature on Brady accommodating opposing players giving Brady what feels like an emotional goodbye to football. But Darlington noted that players who know Brady don't think he's retiring and that sentiment extends to those tight with The Goat.
"Others close to Brady see a player whose talent remains elite and whose desire to play beyond this season is stronger now than it was a year ago," Darlington said.
Of course, the second half of that sentence caught Joe's ear: Brady is leaning less toward retirement now than he was last Christmas.
That's good news for the Bucs' chances to retain an above average quarterback, though a rough Brady finish to the regular season could kill the Bucs' desires to bring him back at 46 years old. And Joe would get that. Old and significantly declining is a losing combination.