The Mark Ingram Miracle
December 6th, 2022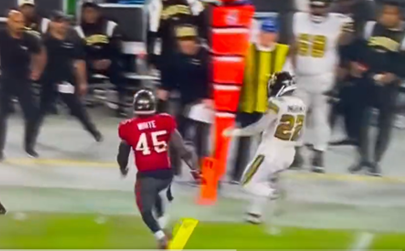 Call it a miracle. Call it supernatural. Call it a bizarre gift from the football gods or an insane gift from a hated rival.
Down two scores late in the fourth quarter last night against the Slimy Saints, Andy Dalton dumped off a 2nd-and-long pass to three-time Pro Bowler running back Mark Ingram. The Heisman Trophy winner made the catch and scampered to the first-down line and shocked the world by running out of bounds short of the sticks.
A screenshot is above and the video is below.
Ingram took a knee on the sideline and it seems that somehow he had a moment of temporary insanity. The Bucs then stopped the Saints on third down and the rest is unforgettable and glorious Bucs history. A 16-3 deficit was erased in less than six minutes — and the Bucs needed every second.
Ingram took to Twitter and issued an apology in the wee hours.
"I'm sick about this one. Regardless of circumstances or how I feel I have to get that fresh set of downs for the squad. I apologize to my teammates my coaches and my city for a crucial mistake. We work way too hard and sacrifice blood sweat and tears. I will be better."
Ingram is a 12-year veteran who has played in a ton of big NFL games, and in college.
Man, weird stuff sure does happen when Tom Brady gets into fourth quarters.
That's cool. No need to get a first down there Mark Ingram. pic.twitter.com/Lpmg8lvrQx

— Andrew Perloff (@andrewperloff) December 6, 2022