Saints Super Bowl Alumni Don't Want Tom Brady
December 17th, 2022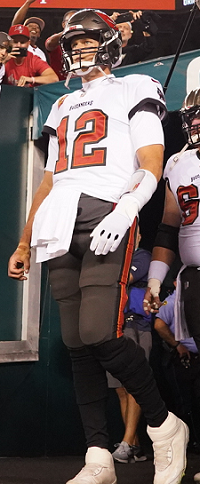 Joe found this buried nugget in The Zach Gelb Show to be fun and interesting.
A guest on the show was former Buccaneers linebacker and current Giants Radio Network voice Jonathan Casillas. He was a Super Bowl hero for the 2009 Saints, and he earned another ring with Tom Brady on the 2014 Belicheats after the Bucs traded him there midseason.
Casillas was always a good source for Joe and it's no surprise he's landed well in the media.
Casillas was talking about Brady this week and responded to the idea that Sean Payton might return to the Saints next season with Brady as his quarterback.
Interestingly, Casillas said he's on a group chat featuring members of the 2009 Saints championship team and noted the guys wouldn't like Brady coming to New Orleans, though they'd be down for Payton coming back. Casillas didn't name names other than Reggie Bush.
Joe isn't surprised that slimy Saints alumni would be among the few anywhere that don't like Brady.
Payton isn't coming back to New Orleans unless there are major changes, Casillas said, because Payton doesn't like their quarterback situation.
Casillas added that he loves Brady and thinks the Bucs are a dangerous team despite their record. He noted how anyone who has played with Brady would understand. But Casillas said he doesn't want Brady playing for New Orleans or any other team in 2023.
"Shut it down, Tom," Casillas said many times in various ways. He thinks Brady should find a new girlfriend and spent time with his kids.
Damn, the thought of Brady and Payton on the Saints might cost Joe a night of sleep.
---
Ira Kaufman Dives Deep Into The Bucs' Finish, Coaching And Tom Brady Futures, Bengals Thoughts, And Much More