Practice Leads To A Win
December 6th, 2022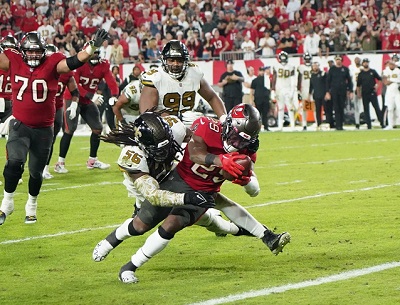 It's awesome when something you practice works on the field. Especially when it wins a game.
That's what happened with rookie running back Rachaad White last night. White, of course, had the game-winning touchdown from Tom Brady.
White said he practiced that play all week last week. And darn if the play didn't develop exactly how the Bucs practiced it, he said after the game.
"We've been working it all week in practice," White said of the game-winner. "I was just grateful he called my name. I ran the route, I was in the spot I was supposed to be in, I see Tom [Brady] throw the ball, I was just going to catch it and do whatever I could to get in the end zone and that's what happened."
What Joe thinks is cool about this is that the Bucs coaches and especially Brady, are trusting rookies to make plays in critical times.
It wasn't just White as the only rookie to contribute. Rookie tight end Cade Otton pulled the Bucs within six points with a touchdown catch. Three weeks ago he had a big catch followed by the game-winning touchdown himself against the Rams.
Fellow rookie tight end Ko Kieft had one nice catch last night and a touchdown last week in Cleveland.
So Joe thinks it is cool that the rookies have played well enough to earn Brady's crunch-time trust.
As Otton told Joe last night, the coaches have told him he's no longer a rookie after 12 games.