Playoff Lenny Rounding Into Form
December 26th, 2022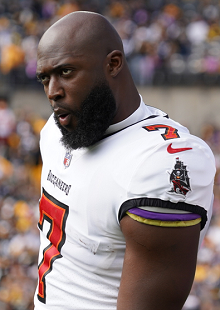 Yeah, Leonard Fournette is a lot worse than he should be in short yardage, but overall he's been damn good since his revival game in Germany last month.
The Bucs leaned on Fournette in a huge way tonight against the Cardinals, and he came up huge.
A whopping 29 touches for Fournette ended with 20 carries for 72 yards, including Fournette's first 20-plus-yard run of the season (23 yards). And Fournette had 9 catches for 90 yards with one being the tackle-breaking romp for 44 yards that sparked the Bucs' fourth-quarter turnaround. Fournette finished with 9 catches for 90 yards on 10 targets.
It sure feels like the Playoff Lenny version of Fournette is emerging.
Fournette now has 68 catches this season for 500 yards and 3 touchdowns. And he's up to 640 yards on the ground. Those 1,140 total yards from scrimmage are pretty damn good.
Joe can see Fournette building confidence, and clearly Tom Brady believes in him. That's a healthy combination for playoff football, assuming the Bucs get there.