Buccaneers 19, Cardinals 16 (OT)
December 25th, 2022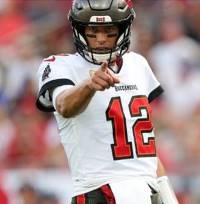 Victory!
It doesn't get much uglier than that, but Joe is more than happy to swallow it with one final chug of egg nog.
Our beloved Buccaneers are now 7-8. It's a Christmas miracle!
Joe is tipping a Santa hat to Leonard Fournette, Russell Gage, the Bucs defense and Ryan Succop for helping the Bucs overcome a shaky night by the Tampa Bay special teams and Tom Brady, and some rough offensive line play.
Yeah, the Bucs are a subpar team, but they still have time to re-invent themselves — or at least improve — en route to the playoffs. And speaking of the 2022 postseason, the Bucs will get their invitation with a win on Sunday against Carolina (6-9).
What troubles Joe most is that the Bucs are regressing when they're not in a hurry-up offense, and they don't look like a punch-you-in-the-mouth football team, especially on special teams and on the offensive line (including tight ends).
Overall, the Bucs don't look well coached overall. But Brady still has the late-game, under-pressure magic, and the defense is good enough to be a difference-maker in any game.
One weird season marches on — this time with a "W" against a weak Cardinals team.
Bring on the Panthers!
— JoeBucsFan (@JoeBucsFan) December 26, 2022