Panthers Have No Wins Against Teams With A Winning Record
December 27th, 2022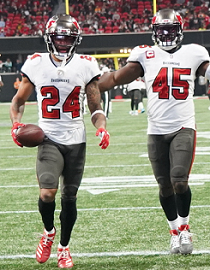 The battle for the NFC South crown on Sunday at The Licht House is sort of a loser bowl.
Coming to Tampa is the miserable Panthers, a team with no victories this season against a team that currently has a winning record. Yes, Carolina (6-9) beat the Seahawks (7-8) when Seattle still had a winning record, but the Seahawks already had begun their implosion.
Of course, Carolina blew out the Bucs 21-3 in October, but the Bucs (7-8) don't have a winning record, either.
Imagine if the Panthers were able to pull off the upset and beat the Bucs on Sunday. They might actually win a division crown without a "W" against team with a winning record — in a 17-game season!
That would be one of the more bizarre stories in NFL history. Carolina closes its season at New Orleans.
There's a divide at JoeBucsFan.com world headquarters. The Joe typing here doesn't see the Panthers, a one-win team on the road this season, finding its way to a win Sunday. They're coming off their best game of the season, but duplicating the punishing rushing performance on the road that got them the win is going to be extremely difficult against the Bucs.