"My Parents Left In The Third Quarter"
December 12th, 2022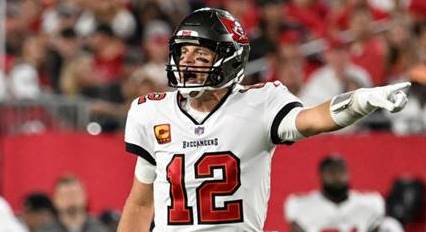 Bucs fans can afford to spend all week cursing and in disbelief about yesterday's loss at San Francisco, but Tom Brady and his teammates cannot.
Brady was on his SiriusXM Mad Dog Radio show tonight talking about how badly he and the Bucs played against the 49ers, specifically noting two terrible throws he had that were costly.
"Urgency and discipline" are the necessary focuses this week, Brady said. And he added that he'll be doing everything possible to hone in on eliminating mistakes.
How ugly did Brady feel about the loss to the 49ers? "My parents left early in the third quarter," Brady said before he spoke of leaving the stadium after a 500-yard walk to the team bus only to have a security guard ask him if he was going to go back to talk to the family waiting for him by the locker room.
Apparently, Brady was so phased by the loss he didn't think anyone would wait around to see him.
One interesting nugget Brady dropped was that he tries to find anger as an emotion during games because he said it works well for him.
Brady said when you see him jacked up and cursing in games, often it's just him trying to pump himself up rather than real anger.