Leonard Fournette Announces A Serious Foot Injury
December 26th, 2022
Playoff Lenny has a bum wheel. And that's why he may not be peak Playoff Lenny.
Earlier this morning, the Bucs running back, off his best all-around performance with Tampa Bay, 162 yards from scrimmage last night in an overtime win over the sad Cardinals, apparently got frustrated with folks hounding him on Twitter and set people straight.
Playoff Lenny has since deleted his tweet but not before the gang at Outkick.com got a screenshot.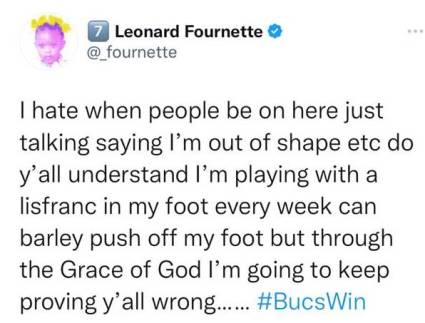 A Lisfranc injury is a nasty injury that either means broken bones in the foot or torn ligaments. Here is how ClevelandClinic.com describes it. Joe knows it is very painful.
A Lisfranc fracture is a type of broken foot. Like all fractures, the treatments you'll need and your recovery time will depend on the severity of your original injury. You might need surgery. Most people need to wear a cast or boot for six to 12 weeks, and it can take a year or more to return to intense exercise like running.
And Playoff Lenny has been playing football on this! And when a running back has a bum wheel, that takes a toll.
The fact Playoff Lenny is battling this injury and had the night he had last night speaks to his drive and desire.