"It's Really Going To Be Who's Tougher"
December 29th, 2022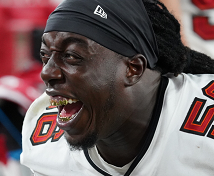 Inside linebackers coach Larry Foote, a former linebacker himself, painted a picture of his troops drooling to get on the field Sunday against the Panthers.
Carolina is expected to try and run, run, run down the Bucs' throat, and Foote emphatically said today at One Buc Palace that this type of game is a linebacker's dream.
It makes sense that the Panthers will hammer their ground game. It worked incredibly well Sunday against Detroit on a cold, windy day in Charlotte. But that's not the norm for the Panthers. A week earlier they barely broke 20 yards rushing against Pittsburgh.
However, when Sam Darnold is your quarterback, you have to try and win on the ground.
Foote said manhood will be on the line, "It's really going to be who's tougher."
Joe thinks the Bucs defense will hold up very well. There's a lot of pride out there among Will Gholston and other run stuffers up front, in addition to the fire in Devin White and Lavonte David, and a bunch of willing tacklers in the secondary.
It's the Bucs offense that scares the hell out of Joe.