Defense Can Still Win Games
December 29th, 2022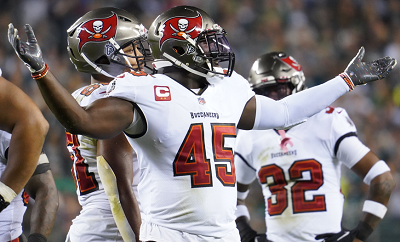 Joe hears the focus on the Bucs' plodding offense and wants to remind fans that the Tampa Bay defense is fully capable of winning a game for the team — especially against a hot-garbage quarterback like the Panthers' Sam Darnold.
If Todd Bowles is the defensive mastermind most Bucs fans believe him to be, then Joe doesn't see why the Panthers should put up more than 14 or 17 points on Sunday at The Licht House.
Can the Bucs make the Panthers' one-dimensional? Well, Carolina already has arguably the worst passing offense in the league, one that ranks last in yards per attempt. (Even lower than the Bucs!)
Darnold certainly won't represent a surprise for Bowles. He's faced Darnold twice (both wins) and Bowles drafted and coached him with the Jets in 2018.
What about stopping the run?
Please don't tell Joe that the Bucs don't have enough available talent on defense to at least have a decent Sunday in run defense against Carolina. There is no reason the Bucs shouldn't be able to hold Carolina to, say, 35 carries for 125 yards. And hopefully it's better than that.
Heck, the Steelers held Carolina to 21 yards rushing two weeks ago! The Panthers' run game is good but it's hardly a Hall of Fame unit.
Joe thinks it's time for Bowles and the defense to flex its muscles. They've done it before and it's an absolute must on Sunday. Joe will wonder even more about Bowles as a head coach if there's anything but a ferocious defensive effort on Sunday.
Yeah, the Bucs could still lose 17-16. Joe gets that the offense has been that bad and has shown little to think it will snap out of its funk.