"It Ain't That Hard To Fight Harder"
December 15th, 2022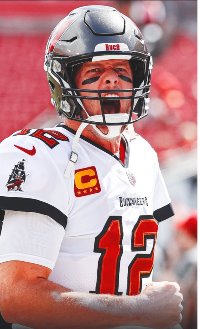 The Tom Brady sideline video circulating through social media is worth watching.
Brady has never been on a 6-7 football team, and he certainly has never been on a 6-7 football team with coaches that are rather quiet and stoic.
Mic'd up Brady was freaking out the Buccaneers' sideline on Sunday during the 49ers blowout of the Bucs.
Joe's got the Twitter video below, and Joe enjoyed watching Tristan Wirfs watching Tom Brady lighting up his teammates.
Joe's favorite line Brady barking "it ain't that hard to fight harder." He sure is right on that one. Joe hopes the Bucs come out Sunday with a fight-for-every-blade-of-grass mentality evident to every fan in the stands. There's no reason fans shouldn't leave the stadium on Sunday — won or lose — saying, 'Damn, the Bucs have a ton of fight in them.'
If not, well, then Todd Bowles should be wondering why he deserves a second season.
The #49ers had Tom Brady in a mood 😂😂😂😂😂 pic.twitter.com/AXNMSIMGH6

— Alex Tran (@nineralex) December 15, 2022