Internal Evaluation Of Luke Goedeke
December 22nd, 2022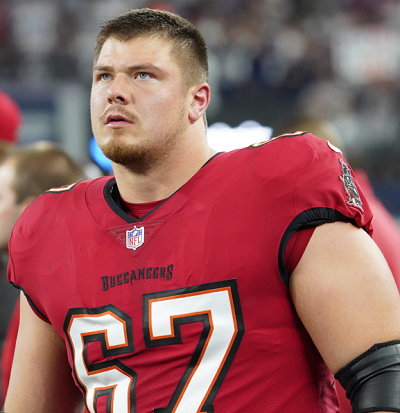 It was already made clear by offensive coordinator Byron Leftwich that rookie left guard Luke Goedeke wasn't supposed to be the starter on opening day.
That was reinforced by another coach this week.
So who was supposed to start?
Joe realizes only hardcore Bucs fans care about this stuff. But Joe is always interested in the answers behind the answers.
It smells more and more like current center Robert Hainsey was going to win the job before returning superstar center Ryan Jensen got hurt — unless you're in the Aaron Stinnie camp. Stinnie, the Super Bowl starting right guard, went down with a blown knee in the second half of a meaningless preseason game in August.
Co-offensive line coach and assistant head coach Harold Goodwin responded to question about Goedeke's development this week on the Buccaneers Radio Network.
"Yeah, he probably played a little faster than we thought he needed to, but just with the injuries and things like that," Goodwin said. "It was a little bit of a struggle early from a protection standpoint, just learning to throw his hands. Because he was a guy that played on the right side in college. So when you go to the left side, it's like, you know, all of a sudden writing right-handed and now you gotta write left-handed. So he had to get used to throwing his hands. But he was always physical in the run game. And it was just a point there, you know, that we just kinda pulled the reins back a little bit. Unfortunately, he got hurt so that allowed us to pull the reins back even quicker. And now he's just taking his time slowly getting back to the player we think he could be."
The wacky thing about all this is that current starter Nick Leverett seems more than capable and might have been the best overall choice as the opening day starter.
Regardless, the Bucs have built quality O-line depth, and Joe is not concerned about Goedeke's future.