Illness Hit Chris Godwin
December 20th, 2022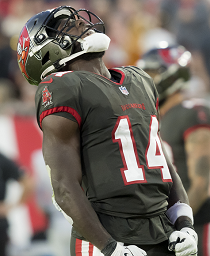 Joe wonders what the Bucs record would be if every player was as tough and as dedicated as receiver Chris Godwin.
Godwin caught everything that came his way Sunday, eight targets and eight catches for 83 yards and a touchdown in the gut-punch loss to the Bengals.
That's not an outrageously special day for Godwin, bit it is special considering what head coach Todd Bowles said on the Buccaneers Radio Network this evening.
Bowles explained that Godwin "came down with a bug" on gameday morning and the Bucs didn't know if Godwin would be able to play. That struck Joe because it must have been quite significant considering how Godwin has battled through so many small and big injuries through his career, including returning early from ACL surgery this season and a hamstring issue in September.
Bowles said what Godwin was able to deliver through 66 snaps is a "great testament" to the type of competitor he is, and nobody would have known he was ill based on how he played.