Five Things
December 19th, 2022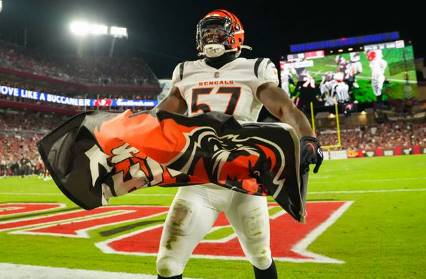 What an ugly second half last night. So, let's get going. Big week ahead. Why does Joe have a feeling Trace McSorley will join the list of Hall of Fame quarterbacks to go from backup to victor against a Todd Bowles defense?
Disconnect Between Coaches And Players?
As if the Bucs pulling a Jeff Saturday and watching the Bengals score 34 unanswered points to wipe out a 17-point Bucs' second-quarter lead wasn't bad enough, Joe listening to Chris Godwin speak added extra nausea.
Godwin was asked why the Bucs played so differently in the second half and let the Bengals roll them.
"We were communicating a little bit better," Godwin said. "We were on the same page. We were being aggressive at the line of scrimmage. We have to play like that for four quarters."
So why not play that way for four quarters? Or more importantly, why not play that for four quarters from the first month of the season? Why can't this team do these small things in Week 14?
This tells Joe there is a disconnect between coaches and players. Recently, Joe heard Bucs coach Todd Bowles say it's up to his players to fix things.
What??? That's what coaches are for! On face value, that seems a complete dereliction of duty by Bowles.
Or could it be the players have tuned out Bowles and Company, and Bowles is so frustrated that he can't get through to players, that he threw up his hands in disgust and basically said, "OK, coach yourselves."
Joe isn't sure what is a bigger indictment.
So, About Communication
Joe is about fed up hearing Bowles and players blame "communication" damn near daily. It was also a favorite Mike Smith line/excuse/dodge. That sure seems to be a generic panacea term to throw at fans, a sugar pill that sounds cool but doesn't mean a damn thing.
You know, it's better in the PC sense to say, "Oh, we didn't run well because we didn't communicate." As opposed to, "Friggin' Lefty keeps demanding runs to the left side. Can't that blind SOB see we're not getting any yards?"
These guys are so bad with communication they need to bring their cell phones on the field so they can use Google Translate.
But here is where communication really broke down last night, for real, which started the Bengals' avalanche. On the fake punt in the third quarter, Bowles made it crystal clear Giovani Bernard knew the call when he botched the direct snap. Bernard, who was awfully p!ssy after the game (Joe never saw him like that before), claimed it was "miscommunication."
Joe will suggest it was miscommunication on special teams coach Keith Armstrong's part. Here's why:
Joe remembers a story Bill Parcells once told. He was a linebackers coach at Wichita State. He sent in a player with specific instructions. The player didn't follow orders and gave up a big play. Parcells said when the player returned to the sidelines, Parcells unloaded on the guy with a tirade that would embarrass a Marine drill instructor. Parcells tore into the kid and wouldn't let up.
After quite a few minutes of hollering, the head coach interrupted Parcells and told him, "Coach, he obviously didn't understand or he wouldn't have done that and it's your job to make sure your players understand."
Parcells said he never forgot that lesson. Make crystal clear a player knows exactly what to do before you put the player in position to make a mistake.
Last night hearing Bowles claim Bernard knew the play and Bernard claiming there was "miscommunication," Joe thought of Parcells' story. Armstrong and/or Bowles failed to make sure Bernard knew his responsibility, what was expected of him. Otherwise, Bernard would have been ready.
Tom Brady Not Washed (Yet)
Joe got a comment on Twitter slamming Joe for always giving Jameis Winston Tom Brady the benefit of the doubt.
Yeah, forgive Joe. The nerve of Joe to cut slack to a guy who has seven rings.
Joe understands why some (crazy?) Bucs fans want to move on from Brady. The Bucs are losing and he's the quarterback. Those two things don't mix.
Remember the last time folks thought Brady was washed? The Belicheats are still ruing the day they bought that BS.
Besides, Brady didn't come here to play in a handcuffed, safety-over-production offense. But that's what he has been stuck with this season. Mostly.
Here are a couple of tidbits that suggest Brady still can sling it when put in position to succeed: First, Brady is one of the best quarterbacks running a hurry-up. Despite this knowledge, for reasons and excuses that escape Joe, Bucs coaches look for reasons for Brady not to use a hurry-up.
It's totally mind-boggling.
Entering last night's game, Joe Burrow and Brady were tied in the NFL for the most fourth-quarter touchdowns (nine). Burrow now has 11 fourth-quarter touchdowns and Brady has 10.
Washed dudes don't ball out in crunch time, much less lead the league after 13 games.
Yeah, the gall of Joe to want one of the game's best on the field in crunch time when Bucs coaches (though not always) allow Brady to do what he does best.
Then there is this little nugget, which is not very good for Bucs coach Todd Bowles.
Take away Brady's late-game magic to beat the sorry Rams and the slimy Saints, the Bucs are 1-8 since (barely) beating the Dixie Chicks back in October.
Usually, teams on that sort of run are playing for a top-five draft pick, not a division crown. But here the Bucs are (still) leading the putrid NFC South.
So yeah, Joe is still a Brady guy, despite Brady not having a Brady year. What should the Bucs do, play Kyle Trask and throw away a home playoff game?
It's too late in the season to start tanking.
Ryan Succop Is Not Justin Tucker
So this is the second week in a row the Bucs tried to save face for an offense that plays like it's hungover by attempting a too-long field goal early in the game. Last week at San Francisco, it was 55 yards. Yesterday it was 50.
Joe has heard Bowles explain how he has faith in Ryan Succop, partly because of how well Succop booms kicks in practice or pregame.
Well, games are different. Please, someone show the head coach Succop's record kicking 50-yard plus field goals. It ain't good. (In the last eight years, Succop is 11-25 on field goal attempts 50 yards or longer. That's 44 percent.)
So why all of a sudden does Bowles want Succop to pretend he's Justin Tucker, the booming field goal kicker for the Crows? Is it an attempt to try to cover for Byron Leftwich not knowing what he's doing?
That 55-yard attempt last week in NoCal smacked of desperation, like a guy who knows his job is slipping away. Succop has never made a kick of that distance in his 14-year career.
The Bucs would be better off going for it on fourth down. But, gasp, that may be risky. And this coaching staff sure is frozen by a risk-averse mentality most of the time.
You know, like when they wouldn't ask a quarterback who thrives under pressure to throw because it could get picked, despite said quarterback only having two picks all year at the time of the scared coaching.
Byron Leftwich Did Adjust — The Wrong Way
A good indicator how an offense moves the ball is to see how many third downs it has. If a team doesn't have many third downs, that tells you they are avoiding them by moving the ball on first and second downs.
In other words, playing Canadian football with NFL rules.
When the Bucs won the Super Bowl, they had the seventh-fewest third downs in the league. Last year the Bucs had the 11th-fewest in the league.
This year? Fuhgettaboutit. The Bucs have the second-most.
The best way to avoid third downs? Throw on first down and, if needed, on second down. Last night the Bucs did that. At least in the first half.
Jenna Laine of ESPN points out the Bucs were 8 of 9 for 119 yards and a touchdown on first downs, their best production of first-down passing all season. Not so coincidently, the Bucs scored 17 points in that same first half.
But then there was the second half:
In the second half? Nah, back to LeftwichBall. Not counting the final drive in which the Bucs only ran it once, the Bucs ran the ball four times on seven first downs. Half of those were runs — all together now — up the middle. Cute.
Of those four running plays the Bucs gained a grand total of 11 yards.
So yeah, Joe is wrong when he previously typed that Leftwich doesn't adjust. He did last night. He adjusted from something working well to something that hasn't worked for all but two games this year.
Brilliant!
The Bucs seemed content with a 14-point lead at halftime and banked on the defense to win the game. To be fair, only once in the three seasons Brady has been the Bucs quarterback had the Bucs choked away a double-digit lead in the second quarter.
Good job, Byron; good effort.