Five Things
December 12th, 2022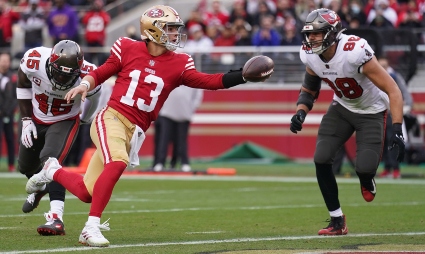 Such an ugly day yesterday. Such an ugly morning so far today. Let's get this over with.
Panic Move Wreaked Of Desperation
Joe had a hunch it was going to go downhill from here.
You ever watch a football or a basketball game at just about any level, where in crunch time a team tries to force a play doing something wild, unorthodox? Trying to do more than their bodies can do? And the results are a disaster?
Like launching half-court shots off the backboard hoping to draw a foul at the same time?
That's what Joe was reminded of on the very first series yesterday.
The Bucs' offense bogged down — No!? — and the Bucs tried to kick a field goal. From 55-yards out! On the first possession!
Even better/worse, Ryan Succop had never made a 55-yard-or-longer attempt in his 14-year career. On top of that, it was breezy at Levi's Stadium in Santa Clara deep in the heart of Silicon Valley.
Joe didn't get a chance to ask Bucs coach Todd Bowles what was up with that move, but dang. What made anyone think Succop, who is known not to have a strong leg, can hit a 55-yarder?
Again, to Joe, it seemed a move of absolute desperation. And panic. Naturally, the kick was way short.
Todd Bowles May Have A Tough Decision
Last week Donovan Smith said he might not be playing his best football because he is dealing with a personal issue. He refused to elaborate. Sunday may have been one of Smith's worst games.
His holding penalty wiped a Mike Evans 68-yard touchdown catch off the scoreboard. Who knows what would have happened if that counted?
Joe understands the Bucs are already down a tackle with All-Pro Tristan Wirfs trying to come back from a high ankle sprain. But if Smith's off-field issue is affecting him that badly, how can Bowles justify keeping him on the field?
If Smith cannot be locked in mentally to the game, either get him help to deal with this mysterious issue or give him a leave of absence. Joe isn't trying to be cruel or insensitive. Joe's looking out for the team.
If a guy sprained his ankle and demanded to play, but his teams started to take advantage of his gimpy wheel, coaches would pull the guy off the field, right? Joe doesn't see any difference in that and what Smith is going through.
Yesterday, Smith hinted this has been an ongoing issue for months. When he was asked if he might need to step away from football, Smith said no because it's been going on all season long.
If this keeps up, Bowles might have to order Smith to step aside, something Joe understands Bowles doesn't want to do. But at some point you have to look out for the whole team.
Put Flags On Them
Joe has typed this before and is quite serious.
Yesterday when Keanu Neal blitzed on the very first play of the game and floored San Francisco quarterback Brock Purdy with a perfect tackle for a sack, and Joe saw the flag come out almost immediately, Joe nearly fell out of his chair.
The instant Neal sacked Purdy Joe thought, "That was too good. That was too hard of a hit… " and then the yellow hanky came out.
It has reached the point that quarterbacks ought to have flags on them.
Joe spoke with Neal after the game and he was really confused what and how he is supposed to hit the quarterback. He thought he went in with his head up.
The reason Joe believes teams ought to put flags on quarterbacks is at least then, defenders will know what a sack is and what exactly they need to do for a sack without drawing a flag.
Neal is hardly the only player complaining about the definition of a sack. Flags would be definitive. No gray area. Yeah, it has come to that for Joe. You know, Roger Goodell football.
It is very, very, very, very frustrating as a hardcore football fan to see good football penalized for reasons that don't compute.
Break out the flags (for the quarterbacks only). Enough is enough.
Carl Nassib Needs More Snaps
Last week Bucs outside linebacker Carl Nassib had a key sack and a batted down pass late in the game to help the Bucs rally from a two-touchdown deficit to win. At the time, Joe thought and wrote how Nassib needs more snaps because for whatever reason, Joe Tryon-Shoyinka isn't getting the job done.
So yesterday after the end of the third quarter, Joe had to visit the little boys' room to take care of business. There, the 49ers radio broadcast was piped in.
Longtime listeners of "Movin the Chains" remember the original co-host who for years teamed up with Pat Kirwan. And that was former Bears defensive tackle Tim Ryan. It was such good football radio.
Well, Ryan has gone on to bigger and better things and one of those is being the color analyst for 49ers radio. Joe heard him go on and on about how underrated Nassib is after Nassib got a two-yard tackle for loss on San Francisco running back Jordan Mason.
So Joe has to ask again: If Nassib continues to make plays and JTS continues to look as if he's swimming upstream, isn't it about time to put Nassib on the field more? Isn't it crunch time for the Bucs to try to win a game or two to win the division?
Nassib yesterday had three tackles, two tackles for loss, a quarterback hit and a pass defended.
That, as a backup, is a better gameline than JTS has had in weeks.
Hey, Russell Gage Lives
Joe has to give Bucs receiver Russell Gage a lot of credit. For him to catch that deflected pass intended for Chris Godwin and still have the smarts to get over the goal line for the Bucs' lone touchdown was impressive.
And it also underscores how he has been such a bust with the Bucs.
Gage has been hurt since almost the time he stepped on a Bucs practice field. He blew out a hamstring in OTAs and aside from his 12 catches and a touchdown in Week 3 against the Packers, you never knew Gage was on the field.
Joe is still trying to figure out where the Gage went that couldn't be covered in training camp. Daily, Gage was lighting up the Bucs defense. He and Tom Brady looked like they had played with each other for years.
At one point, Bowles said of Gage, "We can't stop him."
Then he blew out his hamstring (again) and since has damn near been a ghost. A rumor.
Joe was happy for Gage that he made such a heads-up play. But the Bucs need a lot more from him than a fluke play once a season.