Falcons Fall To 5-8, Door Opens For Bucs To Seize Big Division Lead
December 4th, 2022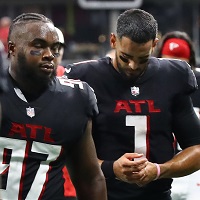 Another Sunday it was in the NFC South, and that meant more losing.
The division teams, including Tampa Bay, are now a combined 18-30.
That's damn hard to do.
Atlanta (5-8) and runaround quarterback Marcus Mariota lost at home this afternoon, 19-16 to the woeful Pittsburgh Steelers (5-7). The Falcons had a 16-play drive that ended in a field goal late in the fourth quarter, and that was pretty much the ballgame.
Cordarelle Patterson scored what would have been the go-head touchdown on the late drive on 1st-and-goal, but it was called back for holding.
This was one of the more boring games Joe has seen in a long time, and the Falcons sure don't look like a team that can rise up and challenge the Bucs.
If the Bucs (5-6) can beat the Saints (4-8) tomorrow night, they'll take a giant step toward locking down the NFC South crown with five games remaining. Carolina (4-8) is on its bye week and will travel to Seattle next weekend.