Bucs Running Backs Don't See Many Stacked Boxes
December 21st, 2022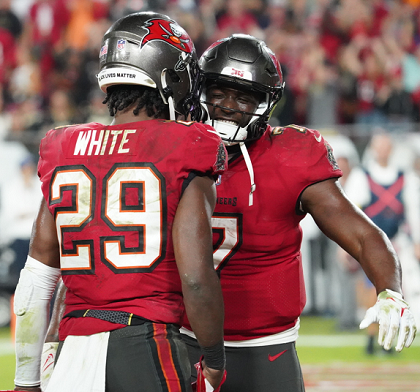 The unbiased NextGen data is clear. Being a Buccaneers running back isn't hard, relatively speaking.
Among running backs with at least 80 attempts this season, Rachaad White has carried the ball against eight men in the box on defense just 15.89 percent of the time. That's the 10th-lowest total in the NFL. Leonard Fournette (20.75 percent) ranks 22nd-lowest among the 45 running backs that qualify.
This doesn't surprise Joe considering the Bucs throw more than any other team in the NFL. However, it is a bit insulting to the Bucs' running game, considering how it's rather easy to predict when the Buccaneers will hand the ball off. (Thanks, Byron!)
For the record, Tampa Bay ranks last in the NFL in total carries, yards per carry and rushing touchdowns.
How does that happen with an offensive line getting an above average grade from coaches? Perhaps the Bucs need better running backs.