Internal Offensive Line Grades Revealed
December 21st, 2022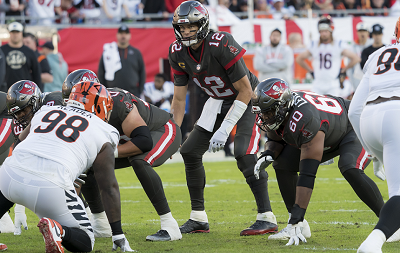 A rare peek into minds of the Buccaneers' coaching staff was delivered yesterday.
Joe was so damn intrigued.
So how bout that Tampa Bay offensive line! Is it good, great, average or worse?
Bucs co-offensive line coach and assistant head coach Harold Goodwin, known as a hard-ass tough guy taskmaster, visited the Buccaneers Radio Network and was talking about offensive line grades.
Not only was Goodwin asked to provide the O-line's collective grade for Sunday's game against the Bengals, but Goodwin was queried on the line's grade for the entire season to date.
Keep in mind Goodwin said he is a tough grader.
For Sunday's game against the Bengals, Goodwin said the line earned a "low B/C+". For the season, the Tampa Bay offensive line gets the same grade, he said, "low B/high C."
Goodwin noted the line has performed at a high level but inconsistency is what keeps the grade down. He said he's not factoring injuries because the unit must perform no matter who is on the field. Goodwin added that the line's best attribute is its attitude and fight. Zero quit in the line, Goodwin said, and he said that can happen.
That got Joe thinking about Tom Brady. If he believes he's playing behind a "B-" line with a great attitude, and Pro Bowl center Ryan Jensen is coming back, and the Bucs are willing to invest more into the offensive line this offseason, then maybe Brady would view the 2023 Bucs O-line as at least a B+ group with potential for more.
Could that sway Brady's decision on his 2023 home?
Overall, it's kind of scary to Joe that the O-line is grading slightly above average but the offense is averaging just 17.6 points per game, which ranks 28th in the NFL.