Bucs Averaging 7.1 Points In The First Halves Of Games
December 12th, 2022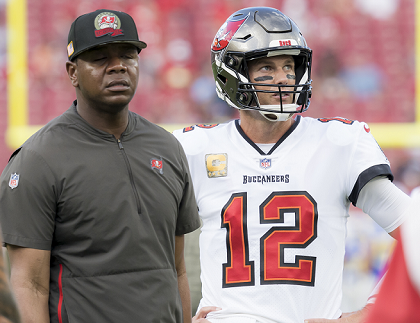 Nothing illustrates the Buccaneers' train wreck coaching job this season and the slow demise of Tom Brady better than the reality that the Panthers, Saints and Falcons have all scored more points than the Bucs.
Those three teams are all playing without legitimate quarterbacks, and one team (Carolina) dumped its best offensive player in an effort to tank for a draft pick.
That's how far things have fallen in Tampa, and Todd Bowles doesn't know how to fix it.
In fact, Bowles says it's too late in the year for a coaching change to help. Ok, Todd, then how about bringing in a couple of consultants? Are you calling anyone?
Joe has a hard time believing legendary offensive line coach Dante Scarnecchia wouldn't lend a hand for a couple of weeks if Tom Brady asked him. And there are other names that could be tapped to consult who would jump at the chance to work alongside Brady for a brief stretch.
The Bucs are averaging 7.1 points in the first half of games. That's simply outrageous.
Only the sour Rams have scored fewer points than the Bucs in the NFC. And those two are the most impotent teams by a good amount of points. The Bucs rank last in every major rushing category.
Man, if Bowles thinks others on his staff capable of calling plays would do a worse job than offensive coordinator Byron Leftwich, then what does that say about them?
If the Bucs are really all-in this season and are running an ego-free environment, then coaching assistance should be on the way for arguably the most underachieving offense in team history.
Don't count on it.