Buccaneers' Playoff Road Got Easier
December 5th, 2022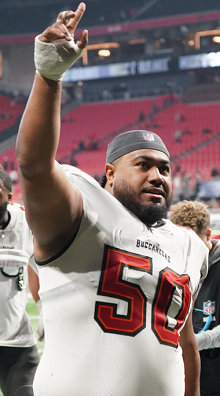 The Bucs have had their share of pain this season in the form of injuries and odd distractions, but it's hard to argue that Tampa Bay hasn't gotten its share of good breaks.
Just look at the NFC South. Carolina, Atlanta and New Orleans lose, lose and lose some more. And those team have had major injuries and issues.
Carolina (4-8) is trying to tank and just cut Baker Mayfield. Atlanta (5-8) lost beastly tight end Kyle Pitts to injury and Cordarrelle Patterson spent time on injured reserve, and now they're likely to turn to rookie third-round pick Desmond Ritter at quarterback before they play the Bucs in the season finale. Throw in the Saints being poorly coached and a shell of their former selves.
It's all come together beautifully for the Bucs' postseason hopes. And it got better yesterday with the 49ers losing starter/backup quarterback Jimmy Garoppolo to a season-ending broken foot. When the Bucs face San Francisco in six short days, it'll be rookie seventh-round pick Brock Purdy at quarterback.
Joe can't wait to see Purdy's face when Todd Bowles' defense confuses the hell out of him after hopefully slowing the 49ers' running game.
If the Bucs can find a "W" tonight against New Orleans, one could make a case that Tampa Bay has a solid shot at finishing 10-7.
But will they win tonight? A loss to the slimy Saints probably sends even the big Bucs optimist burying his head in a Clearwater Beach dune.