Bengals 34, Buccaneers 23
December 18th, 2022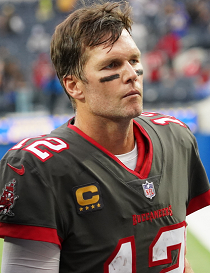 First, Joe will celebrate the obvious. Our beloved Buccaneers showed up and played a competitive first three quarters against a Super Bowl caliber team.
It had been a while. And it bodes well for the remaining Bucs regular season schedule, all against absolute crap football teams.
Now for the bad news, Tampa Bay choked away a 17-0 lead against the Bengals — at home, in part because of a momentum-killing fake punt call deep in Bucs territory that made no sense and was executed horribly.
Tom Brady had a huge hand in the 34-23 loss, throwing two picks, and fumbling while being sacked when he probably should have covered up/gone down sooner. He also was credited with a fumble on a key botched handoff to Leonard Fournette late in the third quarter.
The Bucs offense broke out in a hurry, looking balanced and freeing Mike Evans. And Brady was sharp in the first half before he crumbled after halftime. The Bucs started the third quarter with a 17-3 lead and the ball.
Is Father Time blitzing Brady? What other explanation is there for him fading after halftime with a lead?
Joe feels for the Bucs' defense. Although they were abused late in the fourth quarter as the Bengals ran out the clock, the defense could not have been expected to do a ton more against a powerful offense. Three Bucs second-half turnovers were in Tampa Bay territory, and that doesn't include the botched fake punt.
The Bucs were so bad in the second half that Joe can only think of one word: Leftwich. Yeah, it's a group effort, and that may be unfair to playcaller Byron Leftwich, but you can't drop bagels on the scoreboard in the third and fourth quarters at home.
Jiminy Christmas! The Bengals were down their two best edge rushers in the second half. You cannot go scoreless!
At least the Bucs, now 6-8, look good enough to win their final three games against the more miserable Cardinals (4-10), Panthers (5-9) and Falcons (5-9).
The Bucs are a bad team. Joe is not drunk. But in this bizarre year, meaningful games they are likely to win are still on the schedule and the postseason is likely.
There's still time to fix this disgusting mess, though there's little reason to believe the Bucs can provide anything other than a tease and a whimper in the postseason.